EKU Elektronik receives innovation award Success 2010
Leiningen, June 2010
On 09.06.2010 EKU Elektronik received in Mainz, Germany the outpout orientated innovation award "Success" by the Investitions- und Strukturbank Rheinland-Pfalz (ISB) GmbH for the successful development of the NO-application device NO-A. Since 1998 the Success prizes are awarded by the ISB to companies in the German state of Rheinland-Pfalz with a maximum of 50 employees that have developed and successfully marketed innovative products, technical new developments and new production procedures. The ISB considers medium-sized companies such as EKU Elektronik as the economy's "hidden champions" thanks to their big innovative strength, flexibility and quality. For this innovative strength EKU Elektronik has now been awarded with the Success prize for the second time after 1998.


EKU Elektronik received the award for the NO-A, a therapy device for the application of NO-therapy gas in the ventilation flow of an intensive care patient in connection with different ventilation units. The therapy device shall reduce the clinical necessity of a left-to-right shunt and contribute to cardiac relief. In order to improve the lung function of ventilated patients nitrogen monoxide (NO) is added to the respiratory gas. It is applied for the treatment of newborns with pulmonary failure with high blood pressure in the lung. Furthermore it is used in cardiac surgery (cardiac valve diseases and cardiac transplantation) to treat an increased pulmonary pressure, as it has a dilating effect on the blood vessels in the lung. The distribution in Germany is currently carried out by a leading hospital equipment supplier. Further information about the NO-application device as well as about the compact class of EKU anaesthesia units will be available at stand 108 in hall 7a of the German Anaesthesia Congress DAC 2010 in Nuremberg this week.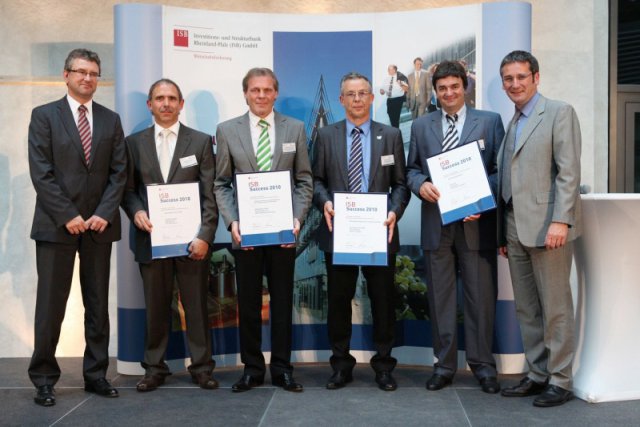 The photo shows the Managing Director of EKU Elektronik GmbH, Hans Erdmann (3. on the right) together with the other awardees during the award ceremony of 09.06.2010 in the foyer of the ISB-building in Mainz given by the Minister for Economics, Transport, Agriculture and Viniculture of the German state Rheinland-Pfalz, Hendrik Hering (right) and Ulrich Dexheimer, Management of the Investitions- und Strukturbank Rheinland-Pfalz (ISB) GmbH (left).