CALIBSO ViPlus Ventilatortester
With its BiFlow-Sensors the CALIBSO ViPlus Ventilatortester offers even more prospects than its successful predecessor model. EKU herewith has realised the requests and suggestions by biomedical engineers who have satisfactorily been working with the ViP Ventilatortester for more than one decade and has made adjustments to their job requirements. In combination with the touchpad the handling becomes easier and more intuitive.


The perfect companion for field work
handy design with little weight
easy transport with comfortable carrier bag
flexibly applicable sensors
run-time of rechargeable battery for approx. 6 hours
protocol processing up to printing directly through the device
immediately ready for use due to standby mode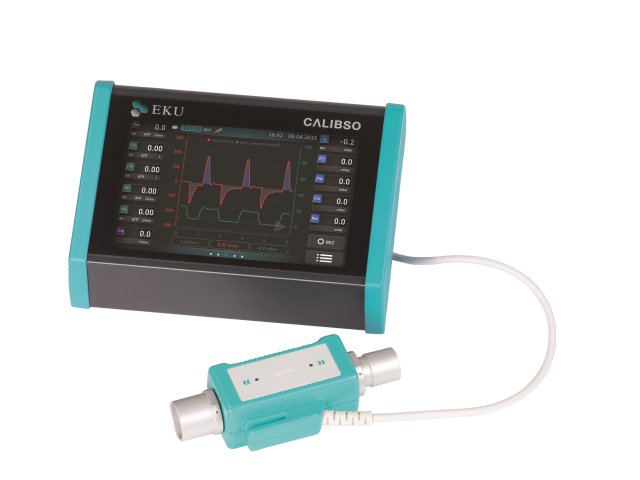 7" capacitive widescreen display with LED backlight
intuitive operating concept
11 parameter displays simultaneously and freely configurable
2 measured curves can be displayed simultaneously
graphic display of flow and pressure curves and of other parameters
connection facility for flow sensors BiFlow High and Low
automatic flow sensor detection
import / export of display sets
direct logging
data logging of all parameters to USB flash drive and SD-card
printer connection
optional oxygen measurement
optional gas measurement IRMA AX+
optional LeakHunter for testing medical gas sockets
Flow Sensors
The BiFlow-Sensors with integrated measuring of humidity and ventilation pressure offer highest flexibility for bidirectional flow measurement by being connected to the CALIBSO ViPlus individually. Furthermore the BiFlow-Sensors can be sent separately for the annual calibration, independently from the basic unit CALIBSO ViPlus.
Measuring parameters BiFlow-Sensor High-Flow:

(±300 L/min)
Flow Air
Flow O2
Flow Air/O2 Mix
Vti
Vte
MVi
MVe
Frequency
Ventilation pressure
PEEP
Peak
Plateau
MEAN
I/E
Ti
Te
Tip
TepHumidity
Insp. Peak Flow
Exp. Peak Flow
HFO Pmean
HFO PMax
HFO PMin
HFO amplitude
HFO frequency
HFO I/E
Measuring parameters BiFlow-Sensor Low-Flow:

(±12 L/min)
Flow Air
Flow O2
Flow Air/O2 Mix
Vti
Vte
MVi
MVe
Frequency
Ventilation pressure
PEEP
Peak
Plateau
MEAN
I/E
Ti
Te
Tip
Tep
Humidity
Insp. Peak Flow
Exsp. Peak Flow
HFO Pmean
HFO PMax
HFO PMin
HFO amplitude
HFO frequency
HFO I/E
Measuring parameters CALIBSO ViPlus basic unit:
differential pressure ±20 mbar
differential pressure ±200 mbar
differential pressure ±1 bar
Further measuring parameters:
O2-concentration (optional)
gas concentration (optional see IRMA AX+ sensor)