NO-A nitric oxide delivery system
In June 2010 EKU Elektronik received the outpout orientated innovation award "Success" by the Investitions- und Strukturbank Rheinland-Pfalz (ISB) GmbH for the successful development of the NO-application device NO-A. EKU Elektronik received the award for the NO-A, a therapy device for the application of nitric oxide (NO) therapy gas in the ventilation flow of an intensive care patient in connection with different ventilators.
The inhaled nitric oxide (iNO) therapy shall reduce the clinical necessity of a left-to-right shunt and contribute to cardiac relief. In order to improve the oxygenation of ventilated patients nitric oxide (NO) is added to the respiratory gas.
It is applied for the treatment of newborns, children and adults with pulmonary hypertension, oxygen deficiency, neonatal pulmonary failure, persistent pulmonary hypertension of neonates, pulmonary fibrosis, chronic obstructive pulmonary disease (COPD) and acute respiratory distress syndrome (ARDS). Furthermore the device is used in cardiac surgery (cardiac valve diseases and cardiac transplantation) to treat an increased pulmonary pressure, as inhaled NO has a dilating effect on the blood vessels in the lung and therefore significantly improves the haemodynamics of the patient. Please refer to the relevant details listed in the information accompanying the finished medicinal product.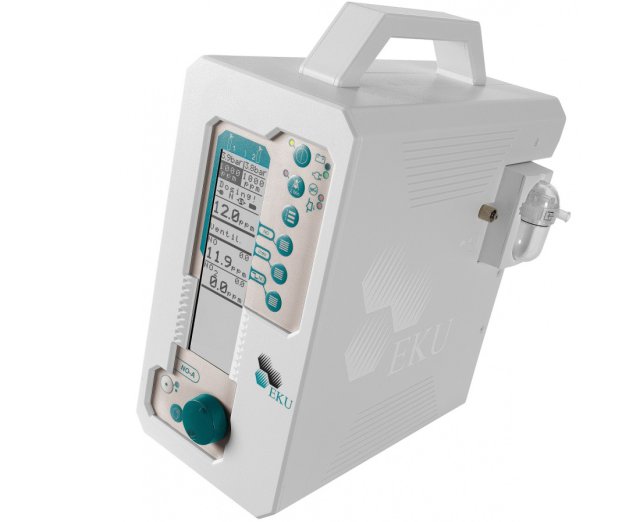 neonatal, paediatric or adult application
direct connection by ventilator interface
optional flow sensor for support of external ventilators of different brands
convenient design and comprehensive power supply for intrahospital transport (mains, 12V, battery)
dual cylinder management: operation with one or two cylinders with automatic flush and cylinder switching
wide-ranging cylinder compatibility (50 – 1000 ppm)
fail-safe dosing by secondary dosing system
wide dosing range by clocked dosing (13 µl/min – 17 l/min)
extended concentration range (0.1 – 99.9 ppm)
triggered or continuous dosing mode
dosing trend (1 h / 24 h)
timer (for non-responder-test or weaning)
integrated gas monitoring
optional oxygen monitoring
ambient air monitoring
interface connection to PDMS (e.g. via Philips VueLink/IntelliVue, EKU-PDMS and others)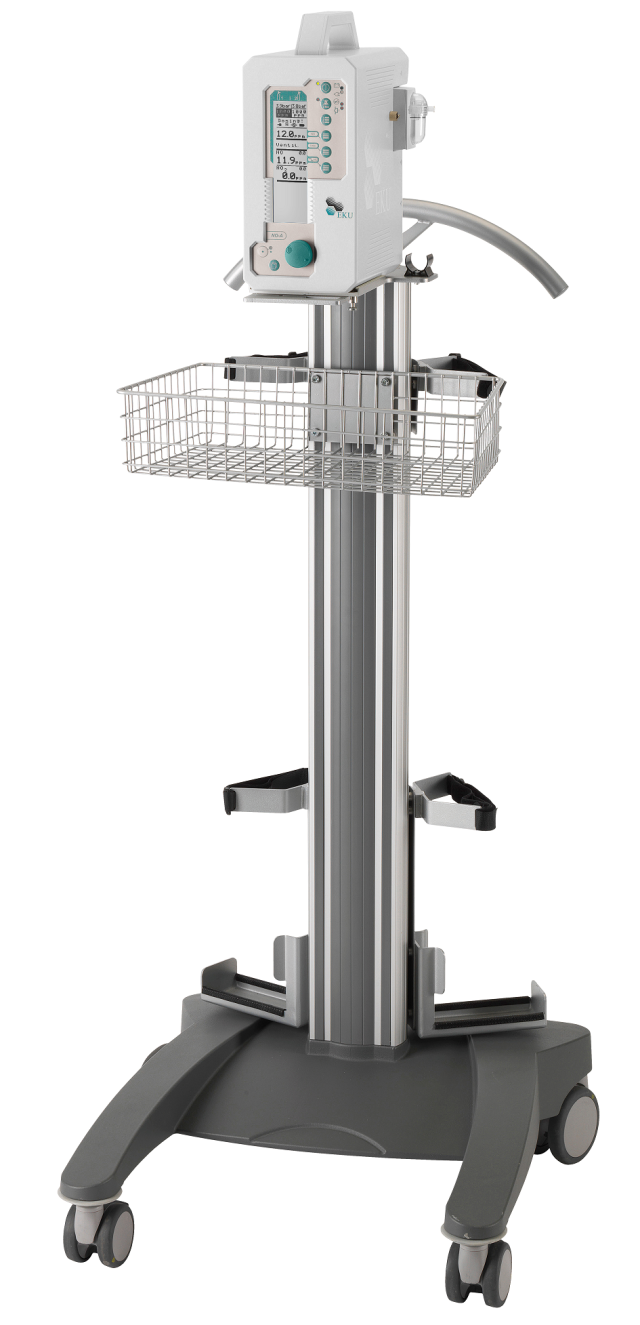 Ventilator Compatibility NO-A
The NO-A has different operating and dosing modes which enable a combination with almost any ventilator. Besides the manual operation, which enables the user to adapt the therapy to a wide spectrum of ventilation situations by adjusting the ventilation flow independently, the NO-A offers two other operating modes which automatically adjust to the conditions in the ventilation circuit with the ventilator interface and a flow sensor.
The dosing modes differ from continuous and triggered dosing mode. An optional third mode even allows the operation in semi-closed systems of anaesthesia units by a dosimetric procedure (currently only available in Germany).
Operating modes
via ventilator coupling
EKU Elektronik is the only manufacturer of nitric oxide delivery systems with electronic connection (interface) to different ventilators of well-known manufacturers. By the connection to the ventilator the required volume is automatically dosed close to the patient corresponding to the adjusted target concentration.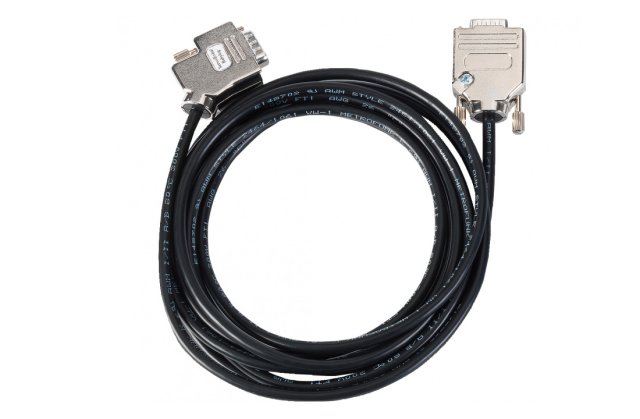 This direct coupling to the ventilator enables:
economy in consumption of the therapy gas
continuous adjustment to a wide-ranged therapeutic application frame
automatic adjustment for therapeutic maneuvers
short NO standing times in the breathing gas and consequently minimization of risks caused by conversion products
Currently available ventilator interfaces:
Getinge (MAQUET) 


SERVO-i
(from V4.00):
triggered*

SERVO-s
(from V4.00):
triggered*

SERVO-U
(from V1.02):
triggered,
V2 only*

SERVO-n
(n/a):
triggered

SERVO300
(n/a)
:
continuous

Flow-i
(from V4.04.00):
bolus/dosimetry, V2 only * (Germany only)
Dräger
Evita 2 dura
(from V 3.5)
:
triggered*
Evita 4
(from V4.25)
:
triggered*

Evita XL
(from V7.05)
:
triggered*

Evita V300
(from V2.40)
:
triggered*
Evita V500
(from V2.40)
:
triggered*

Babylog 8000
(from V5.0)
:
continuous*

Babylog VN500
(from V2.40):
triggered,
continuous*, **

Primus
(from V04.53.00)
:
bolus/dosimetry, V2
only * (Germany only)
Perseus
(from V2.01):
bolus/dosimetry, V2
only *(Germany only)
Hamilton Medical

HAMILTON-T1/C1
(from V2.0.0/P 1.0.4)
:
continuous,
V2 only*

HAMILTON-C3
(from V2.0.0)
:
continuous,
V2 only*
HAMILTON-S1/G5
(from V2.6.0/P 1.0.6):
continuous,
V2 only*


HAMILTON-C6
(from V1.1.1):
continuous,
V2 only*
Löwenstein Medical

Leoni plus
(from V2.3.30/HULBUS 0.0.4):
continuous,
V2 only **





* Compatibility depends on ventilator SW / HW version.

** Dosing mode depends on ventilator mode.
Already known settings with flow sensor:
Getinge (MAQUET)

| | |
| --- | --- |
| SERVO-i: | triggered |
| SERVO-s: | triggered |
| SERVO-U: | triggered |
Löwenstein Medical

Hamilton Medical 

| | |
| --- | --- |
| HAMILTON-S1/G5: | triggered |
ACUTRONIC Medical Systems
fabian HFO:
triggered, V2 only 

HFO mode with EKU flow sensor max. 14 Hz
Dräger
| | |
| --- | --- |
| Evita 2 dura: | triggered |
| Evita 4: | triggered |
| Evita XL: | triggered |
| Evita V300: | triggered |
| Evita V500: | triggered |
| Babylog 8000: | triggered |
| Babylog VN500: | triggered |
GE Healthcare
| | |
| --- | --- |
| Engström Workstation
: | triggered |
| Centiva /5: | triggered |
Covidien 

| | |
| --- | --- |
| Puritan Bennett 840: | triggered |
CareFusion 

| | |
| --- | --- |
| SensorMedics 3100A/B HFOV: | triggered |
| Avea: | triggered |
| Infant Flow SiPAP: | triggered |
Air Liquide Medical Systems

SLE 

| | |
| --- | --- |
| SLE5000
: | 
triggered
 |
| SLE6000: | triggered |
Novalung

| | |
| --- | --- |
| ALPHA100 (HFVO): | triggered |
continuous dosing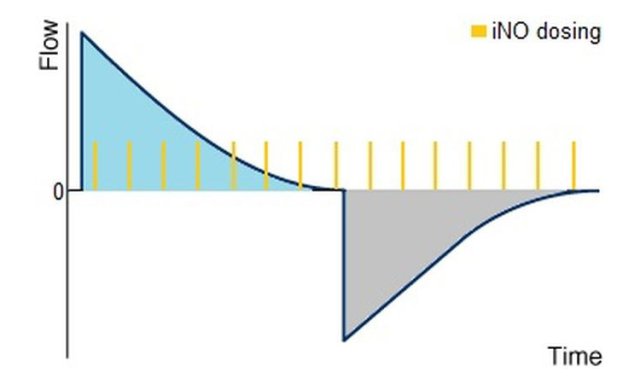 With this dosing method the therapy gas is supplied in continuously clocked cycles to the ventilation by knowing the MVi-value and a "quasi-continuous" dosing is achieved by the time in the inspiratory path of the breathing circuit. This dosing method is also found in the NO-A's secondary dosing system.
triggered dosing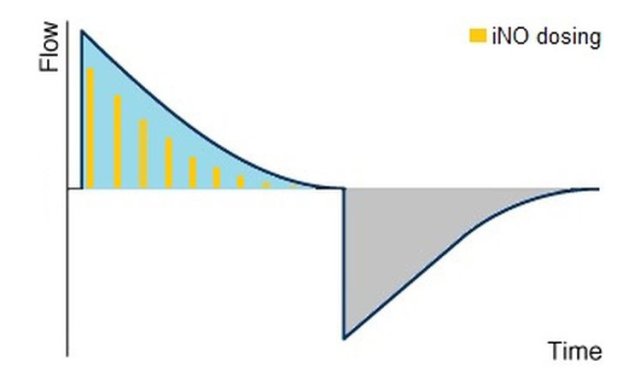 The triggered dosing of NO-A applies the corresponding amount of therapy gas by analysing the available flow curves with the approach to achieve a "flow-proportional" NO-dosing and thus to receive a constant NO-concentration in the inspiratory tube even with varying flows.
dosimetric application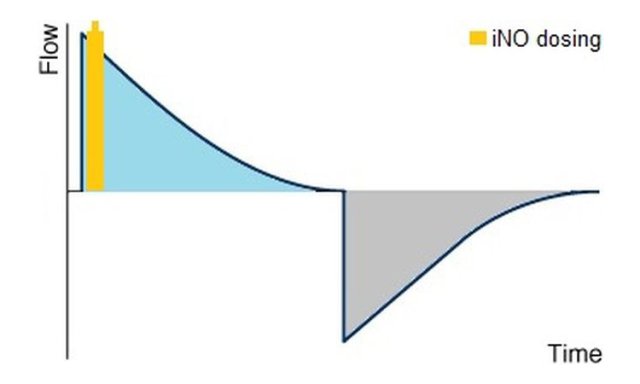 Performances of iNO-therapy are based on the continuous availability of the drug in the inspiratory breathing flow/respiratory gas stream. The effect of the drug is linked to the NO-molecule in the interaction of the muscle cell, not to the concentration at the patient tube. A bolus-wise dosing is therefore a dosimetric procedure which doses a proportional volume of nitric oxice (iNO) referring to the tidal volume at the beginning of each breath.
dosimetric application
For this the nitric oxide has to be led in at the Y-piece close to the patient. Compared to the conventional dosing methods the dosimetric application in a bolus offers the advantage of transporting the drug to the target cells in a more controlled way with simultaneous minimisation of the contact time between nitric oxide and the oxygen existing in the respiratory gas. The shorter the contact time, the less nitrogen dioxide is produced as toxic conversion product. Furthermore this dosing method enables to reduce the consumption of therapy gas significantly, as only actually applied respiratory volume has to be enriched with nitric oxide.
For any questions regarding ventilator compatibility of a system applied by you, please contact us or any of our authorised cooperation partners.
NO-A variations
In Germany and Europe the nitric oxide delivery system NO-A can also be found in the following variations and is distributed, calibrated and serviced by the below mentioned cooperation partners:
NO-A with front foil blue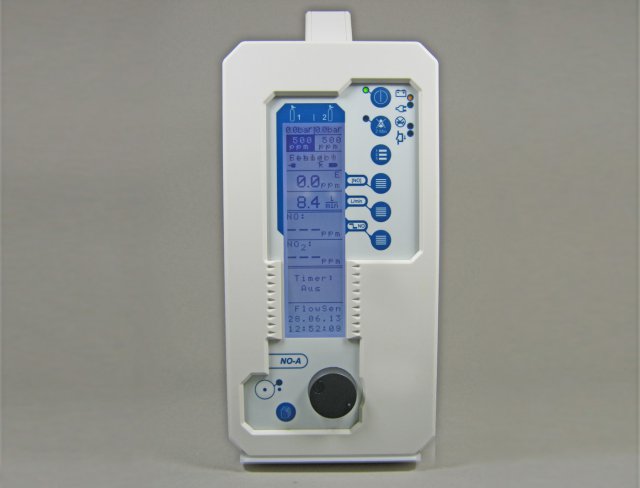 NO-A with front foil blue 
exclusively distributed by MAQUET Vertrieb und Service Deutschland GmbH

countries: Germany, Austria, Switzerland, BeNeLux
Cooperation Partners
Distribution and service of the NO-A or of the different NO-A variations are exclusively performed by our authorised cooperation partners from the field of ventilation and gas supply such as: