EKU Elektronik receives technology award SUCCESS 2017
Leiningen, October 2017
On 18.10.2017 EKU Elektronik GmbH from Leiningen, Germany received the technology award "SUCCESS" by the Investitions- und Strukturbank Rheinland-Pfalz (ISB) GmbH and the Rhineland-Palatinate Ministry of Economics for the successful development and marketing of the mobile medical measuring and data logging device "CALIBSO" in the field of ventilation and anaesthesia. In its 25th company anniversary year EKU Elektronik GmbH was given the SUCCESS award for the third time after 1998 and 2010.


This year seven small and medium-sized companies were awarded for own future-oriented developments, new products, production processes and technology-oriented services and success in the market by the ISB with EUR 65.000 in total.
EKU Elektronik GmbH received the award for the CALIBSO, a universal measuring device for testing, measuring, calibrating and logging of medical devices such as ventilators and anaesthesia units. It is used anywhere where pressure, flow and medical gases (AIR, O2, N2O and anaesthesia gases) are required as measured parameters. The device consists of a basic unit with touchpad as well as different internal and external sensors which are connected according to the measuring task. The version ViPlus Ventilatortester has already been established as ideal mobile and flexible solution for service technicians in the field, in the laboratory or at the service workplace. For the first time a test solution and documentation of medical gas extraction points installed in hospital rooms and operating theatres was realised with the LeakHunter option. Further information about the measuring device CALIBSO and its options ViPlus and LeakHunter will be presented in November at stand no. C13 in hall 11 during the leading medical trade fair MEDICA in Düsseldorf, Germany.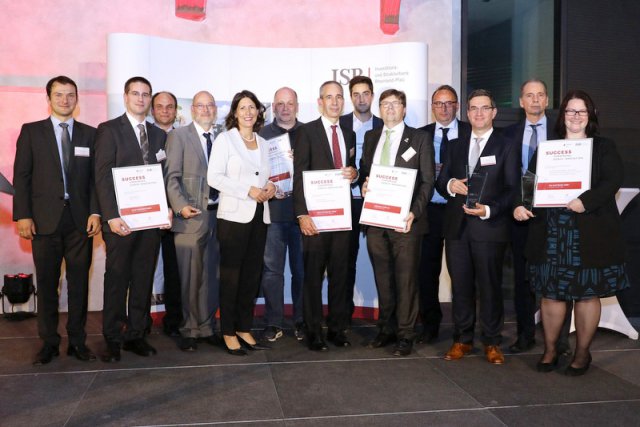 SUCCESS 2017 – all awardees and award presenters at the award ceremony of 18.10.2017 in Mainz, Germany; photo rights: ISB/Alexander Sell